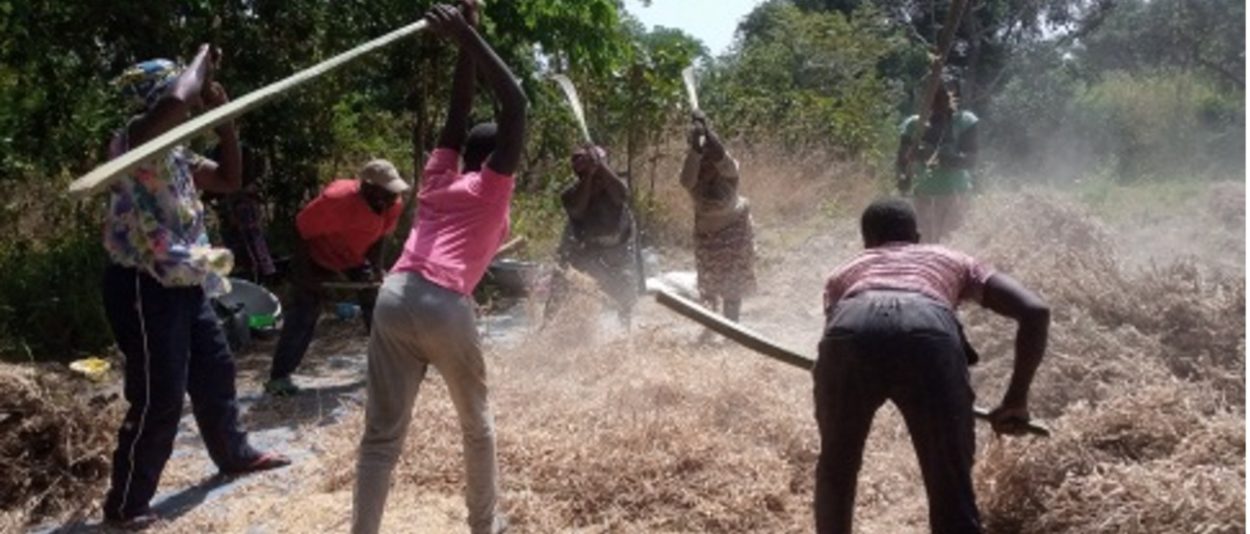 Association Paysanne pour la Communication des Ruraux (APCR)
National Organization
Togo
APCR Togo BP 19-Tchamba, Rue Médina sur la route de Alibi 1 derrière la gendarmerie
apcr98@yahoo.fr
apcrtogo@gmail.com
agroechantillon@gmail.com
+228 90 09 64 86
+228 93 90 49 96
+228 92 68 29 23
Foundation and nature of the organization
Le paysage agricole togolais est composé de petites exploitations familiales morcelées et exposées à toutes sortes d'aléas climatiques et économiques. L'agriculture togolaise est peu monétarisée avec un faible niveau d'information des paysans, un faible niveau technique et un faible taux d'équipement. Avec la crise alimentaire de 2008, les petits producteurs ont été les plus sévèrement touchés. Peu d'entre eux arrivent à dégager un excédent, la grande majorité pratiquant une agriculture manuelle d'autosubsistance. C'est en réponses à ces contraintes majeures imposées par le secteur agricole au Togo, que l'idée d'association des groupements agricoles pour la promotion et le développement des entreprises agricoles au profit des producteurs est née ; d'où la création de l'Association Paysanne pour la Communication des Ruraux (APCR), une faîtière d'organisations paysannes agricoles qui regroupe plusieurs organisations de producteurs et productrices agricoles pour le partage d'informations d'ordre agricole, social, économique ainsi que des expériences paysannes.
La loi du 1er juillet 1901. Elle a été enregistrée légalement le 20 septembre 2000.
N: 1359/MISD-SG-DAPSC-DSC
Organizational membership
Coopératives agricoles, unions de coopératives agricoles.
Coopératives simplifiées ou avec conseil d'administration, unions cantonales et préfectorales
Individual farmer membership
Exploitants familiaux, éleveurs
3,418 femmes soit 52% de l'effectif total
Le siège de l'APCR se trouve à Tchamba dans la région centrale avec des antennes annexes dans les autres régions et préfectures; toutes les décisions se prennent au siège avant de les répliquer dans les autres régions et préfectures.
- Assemblée Générale (AG) composée de 72 délégués dont 24 femmes
- Conseil d'Administration (CA) composé de 9 membres dont 3 femmes
- Conseil de Contrôle (CS) composé de 3 membres dont 1 femme
- Collège des femmes composé de 5 membres
- Un secrétariat d'exécution (cellule technique) composé 12 techniciens et animateurs appuyés par 36 responsables des zones qui ne sont que des leaders paysans formés pour servir de relai sur le terrain

- Extension de l'aire d'intervention de la faîtière pour une couverture véritablement nationale
- Renforcement de capacités des membres sur leurs rôles et responsabilités dans les différents organes et sur les thématiques de gouvernance locale, démocratie, citoyenneté, équité genre
- Renforcement du cadre structurel de la faîtière
- Promotion de l'alphabétisation fonctionnelle rurale dans les populations rurales
- Renforcement des services techniques et économiques aux membres (assistance technique de proximité-facilitation de l'accès aux intrants agricoles, aux crédits de campagne et aux canaux et opportunités de mise en marché des
produits agricoles)
- Mobilisation de ressources internes et externes
- Promotion de la communication interne et externe
- Renforcement du cadre partenarial: établissement de partenariats techniques et ou/financiers avec des organismes nationaux et internationaux
Sectors of intervention and activities
1. Capacity-building and institutional support to members
3. Provision of economic services
4. Communication and knowledge management
- Information, éducation, sensibilisation-formation (Radio, IEC, CCC)
- Alphabétisation en langues locales et en français
- Appui technique à la production et à la transformation de produits agricoles
- Promotion et développement des unités de transformation agroalimentaire
- Recherche de marché et appui à la commercialisation (promotion et organisation de la vente collective)
- Facilitation à l'accès aux intrants et crédits agricoles
- Protection de l'environnement, promotion de l'agriculture durable (GIFS)
- Capitalisation des expériences paysannes à travers des voyages d'échanges
- Construction de magasins de stockage pour la promotion et le développement du système de warrantage
- Organisation et formation des coopératives pour une gestion autonome
- Promotion de l'entreprenariat rural et la gouvernance locale dans les OPA

Chickens, Goats, Maize, Pigs, Rice, paddy rice, Soja biologique et conventionnel, anacarde et arachide, Sorghum, Soybeans, soya
Coordination Togolaise des Organisations Paysannes et de producteurs agricoles (CTOP) ; Organisation des Nations Unies pour l'alimentation et l'agriculture (FAO) ; Fédération Nationale des Coopératives Productrices de Soja (FNCPS) ; Gesellschaft für Internationale Zusammenarbeit (GIZ) ProCIV (Programme global Centres d'innovations vertes pour le secteur agroalimentaire); Institut de Conseil et d'Appui Technique (ICAT) ; Réseau des Organisations de Développement de la région Centrale (RESODERC) ; SOYCAIN (société française et partenaire commercial de l'association depuis 2014); URCLEC et WAGES (sociétés de microfinances qui appuient l'association dans l'octroi des crédits de campagne aux producteurs).
1. Appui aux moyens d'existence des producteurs/trices membres de 10 organisations des producteurs forestiers et agricole (OPFA) dans le cadre du mécanisme forêt et paysans, mise en œuvre par l'association de mars à décembre 2020 et financé par la GIZ et la FAO. Domaine d'intervention: protection de l'environnement et transformation agro-alimentaire.

2. Mise en place et conduite des champs tests d'innovations (CTI). Période d'exécution: 2017 à 2020. Financé par la GIZ ProCIV au profit des producteurs agricoles.

3. Capitalisation sur l'initiative économique de l'association: «Production et commercialisation de soja biologique au Togo» financé par le Réseau des organisations paysannes et de producteurs de l'Afrique de l'Ouest (ROPPA) à travers la CTOP en 2016-2017.

4. Appui- accompagnement aux activités économiques des coopératives agricole (entreprenariat rural) financé par AGRITERRA (2012-2015).

5. Alphabétisation des communautés en langue Tem dans la région centrale, financé par Folk spräk à travers COPA-TOGO (2008 -2019).

6. Projet 1000s+ (OP mandatée pour le pilotage du projet): Appui-conseils aux initiatives des PEA du Togo financé par AGRITERRA et International Fertilizer Development Centre (2008-2012).
Download PDF