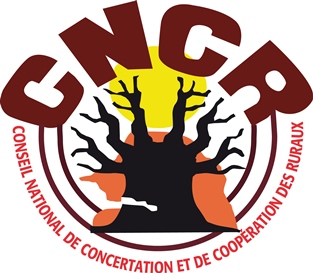 Conseil National de Concertation et de Coopération des Ruraux (CNCR)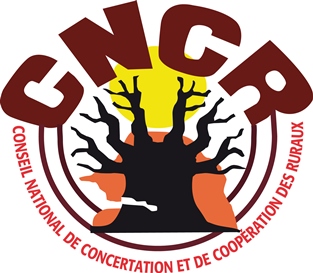 National Organization
Senegal
Lotissement CICES, lot 58 A - Dakar, Sénégal ; BP 249, Poste R.P. – Dakar, Sénégal
cncr@cncr.org
marius.dia@cncr.org
thioyey@yahoo.fr
elhadjithierno@yahoo.fr
+221 33 827 74 53
+221 77 636 54 69
+221 77 542 21 41
+221 77 533 02 78
Foundation and nature of the organization
Après la période d'encadrement paternaliste suivant l'Indépendance, le Sénégal va commencer à remettre en question le système de « formation et visites ». Les services polyvalents de vulgarisation montrent vite leurs limites sur le terrain dès les années 70 : ne prenant pas en compte la diversité des exploitations agricoles, faiblement reliés à la recherche, leur capacité à favoriser la croissance de la production agricole reste faible. L'idée que le producteur sait aussi être efficace et innovateur et qu'il peut améliorer sa production à condition d'avoir accès à des technologies adaptées, variées et rentables se développe.

En parallèle, l'Etat sénégalais va connaître le tournant de l'ajustement structurel de la fin des années 80 au début des années 90, marquant le démantèlement du système d'encadrement. Fondée sur une logique de réduction des dépenses publiques, cette politique ne s'accompagne pas d'une analyse des enjeux en termes de service public et des conditions de prise en charge de ces prestations par le secteur privé et la profession agricole. La fin des années 90 se caractérise ainsi par une période de flottement où il s'avère que le secteur privé et la profession sont peu préparés et aptes à prendre le relais que les nouveaux cadres de politique agricole leur confient. Face à ce constat et dans un nouveau contexte d'élaboration concertée de politiques agricoles, émerge alors peu à peu, portée par certains acteurs de la vulgarisation et notamment les mouvements paysans, une nouvelle vision de l'appui-conseil aux producteurs.

En janvier 1993, sur l'initiative de la Fédération des Organisations Non-Gouvernementales du Sénégal (FONGS), les mouvements et associations de producteurs ruraux se retrouvent pour partager les conclusions d'un long exercice de réflexion et d'analyse sur les politiques agricoles du Sénégal depuis son indépendance. Le Forum « Quel avenir pour le paysan sénégalais ? », regroupant plus de 300 participants (producteurs, agents de l'Etat, représentants de la communauté des bailleurs), se tient du 18 au 20 janvier 1993 et conclut sur la nécessité d'organiser la voix des paysans, pasteurs, pêcheurs, et femmes.
Cette forte recommandation validée par les producteurs ruraux dans des forums régionaux de restitution, permet de créer le 17 mars 1993, à Thiès, le CNCR.

En 1996, le CNCR a accepté le mandat des organisations paysannes (OP) sahéliennes pour conduire le processus de fondation de la Plateforme des Organisations Paysannes du Sahel au Burkina-Faso, qui a donné naissance au Réseau des organisations paysannes et de producteurs de l'Afrique de l'Ouest (ROPPA). Cet acquis du mouvement paysan régional constitue pour le CNCR un prolongement nécessaire pour créer la synergie et la solidarité indispensables pour le développement d'un mouvement paysan fort dans une perspective d'intégration politique et économique régionale.

loi N° 97-347 du 02 Avril 1997
n° 109989/M.INT./DAGAT/DEL/AS , le 1er octobre 1999
Organizational membership
Fédérations d'associations
• La Fédération nationale des groupements d'intérêt économique de pêcheurs (FENAGIE/P)
• La Fédération nationale des groupements d'intérêt économiques des éleveurs (FNGIE/E)
• La Fédération nationale des groupements d'intérêt économique des horticulteurs (FNGIE/H)
• La Fédération nationale des groupements de promotion féminine du Sénégal (FNGPFS)
• La Fédération des organisations non-gouvernementales du Sénégal (FONGS)
• L'Union nationale des coopératives agricoles du Sénégal (UNCAS)
• L'Union nationale des coopératives d'exploitants forestiers (UNCEFS)
• L'Union nationale des coopératives d'éleveurs du Sénégal (UNCE)
• L'Union Nationale des Apiculteurs du Sénégal (UNAS)
• Le Collectif National des Pêcheurs du Sénégal (CNPS)
• La Fédération Nationale des Producteurs de Coton (FNPC)
• La Fédération des Périmètres Auto-gérés (FPA)
• La Union Nationale des Producteurs Maraîchers du Sénégal (UNPM)
• La Fédération des Producteurs Maraîchers des Niayes (FPMN)
• La Fédération des Producteurs de Tomate Industrielle (FPTI)
• La Fédération des Producteurs du Bassin de l'Anambé (FEPROBA)
• L'Association pour le Développement de Namarel et villages environnants (ADENA)
• L'Association Nationale pour la Promotion de l'Élevage au Sénégal (ANAPES)
• Le Directoire National des Femmes en Élevage du Sénégal (DINFEL)
• La Fédération des Associations de la Filière Avicole (FAFA)
• L'Union Nationale de la Filière Banane du Sénégal (UNAFIBS)
• La Fédération des Importateurs et Transformateurs de Lait du Sénégal (FEITLS)
• La Fédération Nationale des Mareyeurs du Sénégal (FENAMS)
• Le Syndicat Unique des Éleveurs du Sénégal (SUES)
• L'Association des Producteurs d'Oignon de la Vallée (APOV)
• La Fédération Nationale pour l'Agriculture Biologique (FNAB)
La fédération Nationale de producteurs de sésame (FNPROSE)




Individual farmer membership
pêcheur, agriculteurs, maraîchers, éleveurs, forestiers
Le CNCR, organisation apolitique de la société civile, regroupe des fédérations et unions paysannes actives dans toutes les filières (agriculture, horticulture, pêche, foresterie, élevage) et sur l'ensemble du territoire national. Pour être membres, ces fédérations et unions doivent elles-mêmes être présentes dans un minimum de 3 régions du Sénégal.

Dans le souci d'une meilleure prise en compte des problématiques des jeunes et des femmes, le CNCR a créé en son sein deux espaces d'échange et de dialogue. Ces espaces appelés « collège des femmes » et « collège des jeunes » regroupent respectivement les femmes et les jeunes issus des vingt-huit fédérations membres du CNCR et ont pour mission la défense des intérêts des femmes et des jeunes producteurs dans les politiques publiques par l'intermédiaire du CNCR.

Pour répondre au besoin de ses membres, le CNCR a créé une structure d'appui technique, l'Association Sénégalaise pour la Promotion du développement à la base (ASPRODEB). Cette structure est le bras technique du CNCR et permet la canalisation de financements des partenaires techniques et financiers vers les OP. Elle se positionne en partenaire des bailleurs de fonds (nationaux et internationaux) pour la fourniture de services de renforcement de capacités techniques et organisationnelles, de gestion financière et d'appui conseil.
• Le Congrès, ou Assemblée Générale (AG), composée de tous les membres, est l'organe souverain d'orientation et de décision du CNCR ;
• Le conseil d'administration (CA) de 68 membres (trois représentants par membre fondateur, deux représentants par chaque nouveau membre, deux représentants du Collège des femmes et deux représentants du Collège des jeunes, le coordonnateur de la cellule d'appui technique), a le pouvoir de planifier, mettre en œuvre et suivre les activités du CNCR conformément aux orientations et programmes définis par l'AG ;
• Le Bureau Exécutif est composé de 22 membres et exécute les décisions du CA ;
• Le Secrétariat Général du CNCR dispose, pour mener à bien les activités, d'une Cellule d'appui technique (CAT) qui assure, en relation avec les responsables du CNCR et des prestataires de services indépendants, la préparation des dossiers, la négociation des programmes, la formation des responsables d'OP ainsi que la coordination et le suivi des activités du CNCR.

Les priorités d'action du CNCR pour cette période sont les suivantes :
(i) L'influence des politiques, projets et programmes pour faciliter la transformation maîtrisée des exploitations familiales et des économies locales ;
(ii) Renforcer les capacités des Fédérations à fournir des services économiques, techniques et sociaux adaptés à leurs membres ;
(iii) S'adapter durablement aux mutations sociales et institutionnelles. Ceci se fera à travers le renforcement des capacités de réflexion, de proposition, d'interpellation et de négociation du CNCR et de ses membres.
Sectors of intervention and activities
1. Capacity-building and institutional support to members
2. Policy engagement, lobbying and advocacy
4. Communication and knowledge management
5. Other: Participation à l'élaboration des politiques, sensibilisation, lobbying, animation de dialogue politique
1) Production des connaissances et information. L'ensemble des services fournis par le CNCR aux membres s'inscrive dans sa politique de production de connaissances. Ce processus dynamique est quotidiennement alimenté par la réflexion thématique, la recherche, l'élaboration de documents techniques, l'échange d'expériences et de pratiques, et la concertation avec le monde rural. Les activités permettant d'alimenter la production de connaissance incluent : (i) Le système de suivi des exploitations familiales (EF), (ii) L'Observatoire national des exploitations familiales, (iii) Les tournées nationales, (iv) Les foires et les fora;

2) Renforcement des capacités. Le CNCR offre à ses membres la possibilité de renforcer leurs capacités d'interpellation, de propositions et de négociation à travers des formations et des stages pratiques dans les domaines suivants : (i) Politiques agro-sylvo-pastorale et halieutiques ; (ii) Informatique ; (iii) Gestion des projets ; (iv) Gouvernance des organisations ; (v) Communication et information ; (vi) Leadership et négociation ; (vii) Plaidoyer et lobbying ; (viii) Changement climatique. En outre, le CNCR commandite des études de diagnostics institutionnels et des plans de renforcement de ses fédérations.

3) Participation à l'élaboration des politiques et plaidoyer.
CEREALS, FISH CRUSTACEANS AND MOLLUSCS, FRUITS, LIVESTOCK, OIL-BEARING CROPS, PRODUCTS FROM SLAUGHTERED ANIMALS, ROOTS AND TUBERS, VEGETABLES
Agence Française de Développement (AFD), Agriculteurs Français et Développement International (Afdi), Fondation Rosa Luxempbourg , Forum Rural Mondial (FRM), Association des Juristes Sénégalaises (AJS), Agence Africaine de l'Agriculture et de l'Agroalimentaire de la CEDEAO (ARAA), Centre Canadien d'études et de Coopération Internationale (CECI), Collectif Stratégies Alimentaires (CSA), Conseil Ouest et Centre Africain pour la Recherche et le Développement Agricoles (CORAF), COSPE, Direction du développement et de la coopération (DDC), Food and Agriculture Organisation (FAO), Fondation Rosa Luxemburg (FRL) Fonds International pour le Développement Agricole (FIDA), Gouvernement du Sénégal, Initiative prospective agricole et rurale (IPAR), Rights and Resources Initiative (RRI), SOS Faim, Union Européenne (UE), UPA Développement International (UPA-DI)
ROPPA, Via Campesina, ILC

• Programme d'Appui aux Organisations Paysannes Africaines (PAOPA) 2013-2017, (financé par FIDA, UE, DDC, AFD) visant soutenir le renforcement des capacités des organisations paysannes africaines ; Le CNCR participe au PAOPA en tant que membre du ROPPA ;
• Centre incubateur de développement des métiers avicoles pour les jeunes femmes et hommes au Sénégal (2016-2017), financement ARAA. Il s'agit d'une expérimentation de l'insertion des jeunes en appliquant le principe des 3 F (formation, accès au foncier et accès au financement). Mis en œuvre en partenariat avec CECI, l'Ecole Nationale Supérieure d'Agriculture de Thiès (ENSA) et la SEDIMA (entreprise privée).
• Renforcement des Capacités des Leaders Paysans et des Élus Locaux pour la promotion et la sécurisation foncière des communautés de base (2012-2016) (financement Afdi), visant à renforcer les capacités des populations rurales à travers leurs organisations pour le développement de stratégies de sécurisation foncière des EF et de plaidoiries en vue d'influencer la réforme foncière au Sénégal au profit des petits producteurs ;
• Protection et Promotion des Droits et de l'émancipation Sociale et Économique des Femmes (financement UE), mis en œuvre par un consortium composé par le CNCR, AJS et l'ONG italienne COSPE ;
• Partenariat entre la recherche et les organisations de producteurs pour une amélioration de la qualité et une mise en marché des produits transformés des filières agricoles au Sénégal, au Togo, au Niger et au Bénin (PROPAQ) (2013-2015) ;
• Programme des services agricoles et des organisations Producteurs (PSAOP) (2000-2010) (financement FIDA et BM). Dans le cadre de ce programme, une composante était dédiée à la prestation de soutien aux OP pour améliorer : (i) la capacité des OP pour répondre aux besoins des agriculteurs pauvres; (ii) la participation des producteurs dans le développement et la mise en œuvre des politiques et programmes de développement agricole et rural; (Iii) le contrôle technique et économique des activités agricoles par les agriculteurs et leurs organisations pour faire face aux principales contraintes auxquelles ils sont confrontés (approvisionnement en intrants, accès au financement, commercialisation des produits). La mise en œuvre de la composante a été confiée à ASPRODEB. Tous les objectifs du projet ont été atteints ou même dépassés, notamment : la mise en place de 168 plateformes de dialogue et planification et d'un réseau de producteurs de semences pour répondre aux besoins de la production agricole dans des régions sélectionnées. Les populations rurales sont maintenant mieux organisés et plus orientées vers le marché ;
• Programme d'appui au renforcement des compétences techniques, politiques et économiques des leaders du CNCR et de ses membres (2007-2009), financement FIDA. Le projet visait la réalisation d'actions de défense des intérêts des exploitations familiales et de l'agriculture paysanne et la mise en œuvre de certaines activités pour améliorer les capacités d'action des cadres régionaux de concertation et de coopération des ruraux (CRCR), organes consultatifs du CNCR au niveau des régions, et celles opérationnelles des fédérations membres.
Etc.
Download PDF