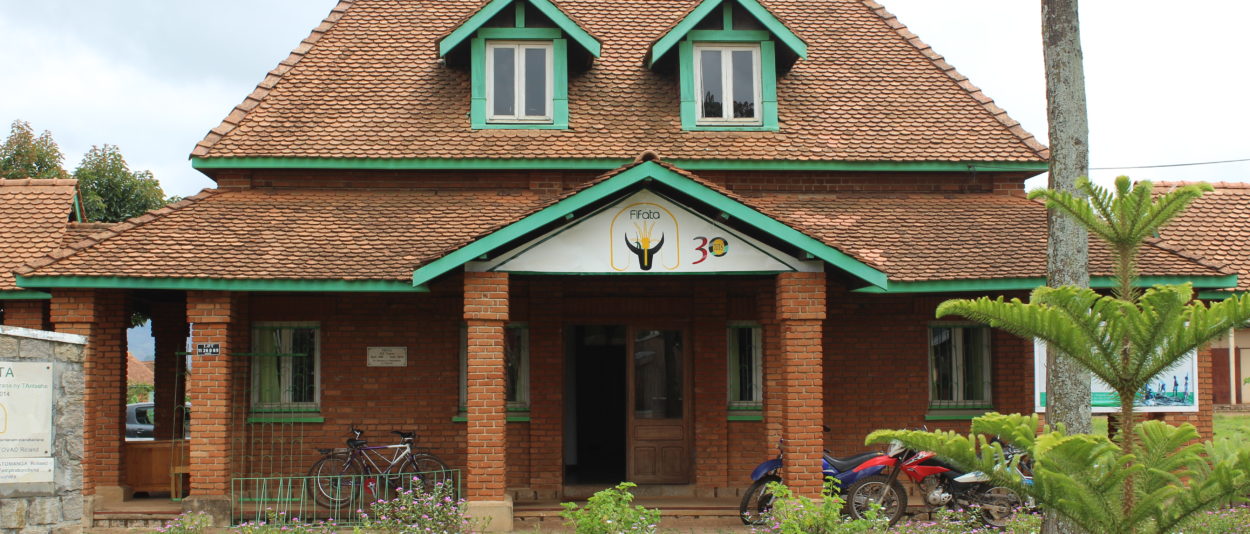 FIKAMBANANA FAMPIVOARANA NY TANTSAHA – FIFATA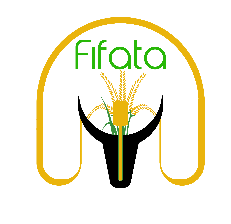 National Organization
Madagascar
Sofia, Alaotra Mangoro, Analamanga, Itasy, Bongolava, Vakinankaratra, Amoron'i Mania, aute Matsiatra, Menabe, Ihorombe, Vatovavy Fitovinany
1126 D 69 Tsivatrinikamo, route de Betafo, Antsirabe
fi.fa.ta@moov.mg
paranyfifata@gmail.com
fanjafifata@gmail.com
fanjaina@yahoo.fr
+261333754031
+261333754037
+261333754033
Foundation and nature of the organization
Face aux problèmes rencontrés par 800 producteurs venant des régions de Vakinankaratra et amoron'i Mania sur le foncier, le prix des produits ainsi que la difficulté d'accéder aux services comme la formation et le financement de l'agriculture, ces producteurs ont décidé de se regrouper pour pouvoir y accéder facilement ainsi que pour pouvoir unir leurs forces pour les dialogues politiques régissant l'agriculture familiale à Madagascar. Créée le 29 septembre 1989, FIFATA a été institutionnalisé en 1993 en tant qu'association régie par la loi 60-133.
Fifata commençait à mener un dialogue politique en 1996 face à l'importation de riz à bas prix par l'Etat malagasy et cela a empiété sur le riz produits par les agriculteurs. Fifata a continué d'augmenter le nombre de ses membres et actuellement elle compte 300,000 producteurs familiaux.
Organizational membership
Organisations paysannes régionales et coopératives
Individual farmer membership
Au début, les producteurs se sont regroupés auprès des organisations paysannes de bas dans chaque région. Depuis 2012, Fifata a structuré ses membres autour des filières. Ces dernières dépendent d'une région à une autre. Des unions filières communales se sont construites, elles sont regroupées au sein des unions filières régionales. Chaque organisation paysanne membre a ses priorités et ses filières. Quant à Fifata, elle priorise quatre filières: le riz, le poulet gasy, l'oignon et la pomme de terre.
- Assemblée générale où chaque organisation paysanne membre est représentée
- Conseil d'administration où chaque région d'intervention est représentée. Composé de 11 personnes dont une est une femme, le conseil d'administration a un mandat de 4 ans. Le conseil d'administration définit la stratégie de Fifata et donne les orientations pour la promotion et le développement de la structure
- Le Secrétariat, dirigé par le Directeur exécute les orientations provenant du conseil d'administration
- Le comité de contrôle composé de trois personnes dont une femme joue le rôle du commissaire au compte
Objectif principal: contribution à l'atteinte de la bonne sécurité alimentaire et à l'amélioration de revenus tout en promouvant les systèmes durables de production et de gestion des ressources naturelles.

Axes stratégiques:
1. Affirmer davantage encore le choix d'une agriculture durable
2. Former nos leaders et leur relève
3. Développer une base forte qui inclut les femmes et les jeunes
4. Améliorer la cohésion du groupe Fifata
Sectors of intervention and activities
1. Capacity-building and institutional support to members
2. Policy engagement, lobbying and advocacy
3. Provision of economic services
4. Communication and knowledge management
5. Other: Octroi de services économiques aux membres, accompagnement à l'innovation agricole: micro-assurance, migration, etc.
1. Renforcement de capacités et appui institutionnels des membres: former les leaders paysans sur leurs roles et attributions au niveau de la structure qu'ils administrent. Renforcer leur capacité sur la vie associative.

2. Octroi de services économiques: promotion du système paysan relais pour faciliter et pérenniser les services comme la santé animale, mener des séances de conseil juridique pour l'accès au certificat et titre foncier, appui à l'accès au marché par l'accompagnement des producteurs à la stratégie de vente, établir des liens entre les producteurs membres et les acheteurs, facilitation à l' approvisionnement d'intrants agricoles et de semences saines, promotion de l'information économique sur le prix des produits.

3. Accompagnement post-récolte: stockage, commercialisation, conseil agricole de proximité et formation des producteurs.

4. Elaboration de politiques, lobbying et sensibilisation: renforcement des connaissances de leaders et des producteurs aux politiques publiques, renforcement de leur capacité en plaidoyer et lobbying, avancer des propositions aux politiques et stratégies agricoles.

5. Communication et gestion de connaissances: promotion interne et externe des structures, documentation des stratégies et histoires de succès ainsi que les leçons apprises.
Apples, Beehives, Chickens, FISH CRUSTACEANS AND MOLLUSCS, Green and/or dry onions, Maize, Other Products, Pigs, Potatoes, Rice, paddy rice, oignon, arachides, agrumes, poissons
Agence Française de développement (AFD); APDRA Pisciculture Paysanne; Centre de coopération internationale en recherche agronomique pour le développement (CIRAD); Formation pour l'épanouissement et le renouveau de la terre (FERT); Fonds International de Développement Agricole (FIDA); Forum Rural Mondial (FRM); Ministère de l'Agriculture, de l'Elevage et de la Pêche (MAEP); Southern African Confederation of Agricultural Unions (SACAU); Union européenne (UE).



Solidarité des Intervenants sur le Foncier; Forum Rural Mondial (FRM); Southern African Confederation of Agricultural Unions (SACAU).
- FO4ACP: Farmers' Organizations for Africa, Caribbean and Pacific (2019-2021), financé par l'UE et le FIDA. Partenaire: SACAU. Fifata est co-bénéficiaire. Focus: professionnalisation des éleveurs de poulet gasy dans les régions de Vakinankaratra, Haute Matsiatra et Itasy.

- Formation et accompagnement de 6,750 jeunes agriculteurs (2018-2021), financé par le FIDA. Partenaire: MAEP. Fifata coordonne. Focus: former et accompagner les jeunes des exploitations agricoles familiales membre de Fifata dans 7 régions, au niveau des centres de formation, délocalisée ou par apprentissage.

- Promotion des politiques en faveur de l'agriculture familiale à Madagascar (2019-2021), financé par le gouvernement basque et le FRM. Partenaire: FRM. Focus: promouvoir les politiques publiques en faveur de l'Agriculture Familiale à Madagascar à partir d'une approche inclusive, d'égalité de genre et de la durabilité environnementale.

- ServInnov: capitalisation des innovations de services des OP (2019-2021), financé par l'UE. Fifata est co-bénéficiaire. Trois régions sont touchés par le projet: Itasy, Vakinankaratra, Amoron'i Mania. Partenaire: CIRAD. Focus: capitaliser les innovations en stockage et santé animale dans les trois régions concernées.

- PADMM: projet de professionnalisation des pisciculteurs (2019-2022), financé par GIZ. Partenaire: APDRA. 5 régions sont touchées par le projet: Itasy, Amoron'i Mania, Vakinankaratra, Haute Matsiatra

Main sources of information, publications and knowledge products
Download PDF