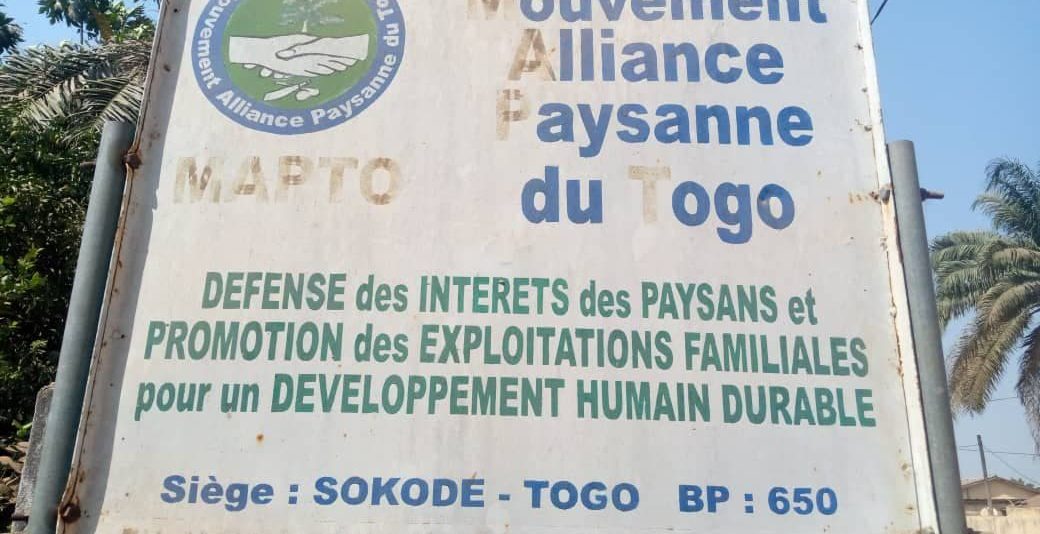 Mouvement Alliance Paysanne du Togo (MAPTO)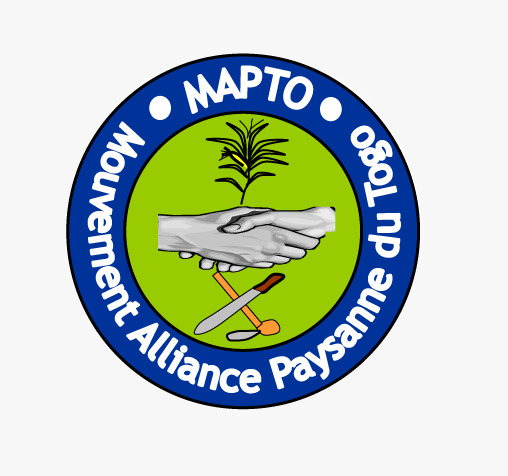 National Organization
Togo
BP 650 Sokodé, rue 1205 de Adesco Bon Secours, quartier Kpangalam
mapto2007@yahoo.fr
bronmann@gmail.com
djonatintiba1@gmail.com
jeffgnass@yahoo.fr
+228 90383068
+228 91990671
Foundation and nature of the organization
Le Mouvement Alliance Paysanne du Togo (MAPTO) est une organisation paysanne à vocation syndicale, créée en 2003 par des petits producteurs désireux de devenir acteurs de leur propre développement. En ce moment là, les organisations des producteurs étaient essentiellement des initiatives gouvernementales ou sous l'impulsion de projets; au point où quand ces projets finissent les organisations mises en place finissent d'exister également. Pour faire la différence, quelques 205 leaders paysans venus de différentes préfectures du Togo, se sont décidés à se constituer en un mouvement d'initiative endogène et surtout capable représenter valablement les paysans. C'est pourquoi leur tout premier slogan est "Par, Pour et avec les paysans". Il rassemble aujourd'hui plus de 22,810 membres actifs sur l'ensemble du territoire et a pour objectif de défendre les intérêts des producteurs et d'améliorer leurs conditions de vie. MAPTO est une organisation qui fonctionne avec une Assemblée Générale, un Conseil d'Administration au sein duquel toutes les régions sont représentées et une équipe technique. Le mouvement est implanté dans les 5 régions administratives du Togo avec des représentations dans 32 préfectures. Il prône la création de l'emploi et de la richesse en milieu rural, la meilleure répartition de cette richesse dans un esprit « gagnant-gagnant » pour une économie sociale et solidaire.
Organizational membership
Sociétés coopératives simplifiées
- Préfecture Agou: Elanyo, Esperance, Hezouwe, Petit A Petit, Solim, Tewa.
- Préfecture Amou: Egnonam, Essewle Aboe.
- Préfecture Anie: Agakpe, Dagbe-Mabou.
- Préfecture Assoli: Adeguenoum, Dila-Bana-Bassa, Dindana-Irou, Dutchodan, Essofa Alafia, Essofada, Essosseledou, Essossina, Hezouwe, Lanan'di Ovonoum-Tond, Tassinarou, Zimbiri.
- Préfecture Avé: Assile Assime, Aurore, La Paix, Lolonyo, Mokpokpo, Nevame, Tovia, Tia Yehowa, Xoname.
- Préfecture Bassar : Comabb, Dfil, Dimakal, Fifi, Loka, Mand'la, Olam, Oukpal-Ghouf, Tinidjotobe, Tinilatobe.
- Préfecture Binah: Daza-Esso, Dissinadama, Hezouwe, Lelenwe, Panapassa, Pirenadou, Togo-Heza.
- Préfecture Blitta: Crap, Dikpendi-Nessi, Effort, Esso-Lakina, Faladema, Lanto, Owasra Panapassa, Pouwèdéou, Pouwèréou, Sambounou, Teoféma, Téou-féma, Torgma, Tovénim, Union des coopératives de Tintchro.
- Préfecture Cinkasse: Todin-Kindo.
- Préfecture Danyi: Evita.
- Préfecture Doufelgou: Bemsao, Ebdi, Fraternite, Kpate, La Paix, Ta'madm, T'made'taa, T'mougta, Torguedila.
- Préfecture Est Mono: Bayeto, Essowedeoou, Katchadjo, Katchema, Katore, Kigaouwazou, Solim, Sourounere, Torgma.
- Préfecture Haho: Berema, Dekawowo, Femmes Dynamiques, Solim, Vovomelio.
- Préfecture Keran: Adjissoussare, Aninadama, Apec, Batchetiba, Ketele, Loulape, Ninkprissa, Oulake, Rafissa, Rtchar, Temre, Tounhoumpa, Waste.
- Préfecture Kloto: Dissinadama, Hezouwe, Lando, Lidaouwe.
- Préfecture Kozah: Diwobina Essinda, Esso-Solam, Essossina, Essowe, Essowedeou, Faladema, Lando, Lidaouwe, Magnim, Nale-Wazou, Pileza, Pre, Sinao, Solim, Tatchayem, Tewfema.
- Préfecture Kpele: Amen, Cfda, Dignabana, Elemawussi, Esperance Verte, Israel, Lakaza, Lidaouwe, Lolonyo, Mokpokpo, Nevame, Novissi, N'tifafa, Pitale, Renam, Yayra.
- Préfecture Kpendjal: Batetime, Lampouguini, Lando, Titotiliebe, Yanfom.
- Préfecture Mô: Bigue, Hèzouwè, Lana N'dili, Sourouguetom.
- Préfecture Ogou: Fraternité, Maintenance, Monfante, N'tifafa.
- Préfecture Oti: Lentonine &Timonfile, Ountorete, Tigba, Timonkpri.
- Préfecture Sotouboua: Avenir, B'galabou, Dissinadama, Dissolidama, Ditedama, Esso Ewassi, Lanena, Marla, Panabassa, Piholirou, Pilizam, Pionnier.
- Préfecture Tandjoaré : Falagbén, Dimani, Djoniman, Lansoatibe, Linkpate, Lisome, Moiman, Pobtn'tente, Toniman, Yendoutote.
- Préfecture Tchamba: C, Dilanebila, Essoronda, Espoir, Panabassa, Sourou, Tour De Babel, Tossouwe.
- Préfecture Tchaoudjo: Aléhéri, Ceman, Dignabana, Dila-Bassa, Essofa, Espoir, Excellence, Faikendine, Solidarité, Tissaligue.
- Préfecture Tône: Poussa-Lando, Titoutilièbe, Yoaboabal. Préfecture Vo: Aftd, Agri Evo, Assile Assime, Cmak, Djade Nadou, Efanam, Gbenodou, Gec, Novissi, Vainqueur, Xoname.
- Préfecture Zio: Alodo, Assitrotro, Gapal, Hara Toukou, Lumiere Du Paysan.
Individual farmer membership
Exploitants familiaux, éleveurs
Le mouvement est organisé au niveau national par un conseil d'administration composé de 11 membres de façon que les 5 régions économiques soient représentées. Ensuite ce conseil d'administration est représenté au niveau préfecture par des comités préfectoraux, des comités cantonaux et des comités de gestion au niveau local dans les coopératives. Au niveau de chaque région, un des membres du conseil d'administration est désigné élu régional avec qui l'ensemble des délégués préfectoraux de la région constituent le conseil régional des coopératives de MAPTO.
-L'assemblée générale: elle réunit tous les délégués préfectoraux, au nombre de 32 dont 2 femmes et 18 jeunes.
- Le conseil d'administration: composé de 11 membres dont 2 femmes et 3 jeunes, pour un mandat de 3 ans. Il représente le mouvement partout besoin, prend les décisions et fixe les orientations du mouvement.
- L'équipe technique: composée d'un coordonnateur, d'un financier, d'un chargé de suivi-évaluation, de 5 facilitateurs de programmes et d'un chauffeur. C'est cette équipe qui exécute les programmes et projets.
- Axe 1: Mobilisation d'outils de bonne gouvernance dans la gestion institutionnelle/organisationnelle du MAPTO
- Axe 2: Diversification de partenariat et mobilisation de ressources
- Axe 3: Élaboration de programmes répondant aux besoins réels des paysans
- Axe 4: Plaidoyer pour influencer les politiques sectorielles pour une agriculture compétitive au service des petits producteurs
Sectors of intervention and activities
1. Capacity-building and institutional support to members
2. Policy engagement, lobbying and advocacy
3. Provision of economic services
4. Communication and knowledge management
- Renforcement des capacités et appui institutionnel aux membres: formation sur les itinéraires techniques de production agro écologique, structuration en coopératives et processus d'immatriculation.
- Élaboration des politiques, lobbying et sensibilisation: sensibilisation sur plusieurs thématiques en lien avec le genre, la protection de l'environnement, les changements climatiques, l'agro écologie.
- Communication et gestion des connaissances: ateliers de réflexion sur les sujets épineux (unités de mesure, accès aux intrants de qualité) et exercice de suivi-évaluation.
- Prestation de services économiques: service d'accès aux crédits agricoles, montage de plan d'affaires agricole, facilitation de la mise en marché des produits agricoles.
Fonio, Fresh tomatoes, Maize, Other Products, Pigs, Plantains, Rice, paddy rice, Sorghum, Soybeans, soya, Yams, sésame
Agence Régionale pour l'Agriculture et de l'Alimentation (ARAA); Brücke-Le pont; Organisation des Nations Unies pour l'alimentation et l'agriculture (FAO), Gesellschaft für Internationale Zusammenarbeit (GIZ), Ministère de l'Agriculture et services déconcentrés.
- Coordination Togolaise des Organisations Paysannes et de Producteurs Agricoles (CTOP Togo)
- Convergence Globale des Luttes pour la Terre et l'Eau – Togo,
- Réseau National Multi acteur de la Protection Sociale au Togo
- Consortium Solidarité pour l'Épanouissement du Paysan Togolais
• Projet d'amélioration des conditions de travail des manœuvres et ouvriers agricoles par la mise en place d'un cadre légal de défense de leurs droits, en préparation d'une démarche systémique dans la région des Plateaux (2021), financement Brücke-Le pont. Le projet vise contribuer à l'amélioration des conditions de vie des manœuvres et ouvriers agricoles, et faciliter l'appropriation de l'approche systémique M4P dans le cadre de la promotion de la banane plantain au Togo. Les activités mises en œuvre par MAPTO comprennent: mobilisation des manœuvres et ouvriers agricoles dans les préfectures de Haho, de Moyenmono, de Kpele, Kloto et de l'Agou et leur structuration, formation des coopératives de prestations de travaux agricoles, mobilisation des acteurs et partenaires de développement de la filière banane plantain;

• Promotion des Exploitations Familiales Agro écologiques productrices du maïs et du soja pour des Revenus Durables dans la région des plateaux au Togo (PEFARD-TOGO), 2019-2022, financement ARAA. Le projet vise contribuer au renforcement de la sécurité alimentaire au Togo par la promotion de l'agro écologie dans les exploitations familiales agricoles. Les activités mises en œuvre par MAPTO comprennent: mobilisation des producteurs, structuration en coopérative, renforcement de capacités en intensification des pratiques agro écologiques, mise en place des CEA, dispositif d'accès à un crédit intrants agro écologiques;

• Projet de renforcement de l'agroécologie et de mise en œuvre de l'approche territoire avec les producteurs de MAPTO (2017 – 2019). Ce programme est soutenu par le CCFD-Terre Solidaire et visa à renforcer le processus de décentralisation des pouvoirs au sein des organes de MAPTO, expérimenter le développement par l'approche territoire et promouvoir le renforcement des bonnes pratiques agro-écologiques et de l'élevage;

• Projet de renforcement de l'utilisation et de la qualité du bol MAPTO dans les marchés du Togo et de la valorisation de la banane plantain des petites exploitations dans Haho et Moyen-mono (2017-2019). Ce projet est le prolongement du programme "bol mapto", un mécanisme de commercialisation adapté aux marchés villageois qui a permis une nette amélioration des revenus des petits paysans. Durant cette phase, il vise: (i) contribuer à l'amélioration du rendement de la banane plantain dans la partie Sud – Est de la région des plateaux; (ii) identifier un fabricant de bol robuste, non déformable et accepté par les acteurs du marché, et (iii) faire approprier les producteurs le bol unique de 2.5 Kg dans la commercialisation;

• Programme des Centres d'Innovations Vertes (PROCIV) (2015-2017), financement GIZ, visant la mise en relation avec le réseau national des producteurs de semences certifiées du Togo, et la mise en place des Champs Tests d'innovation;

• Programme pour le développement rural et l'agriculture au Togo (ProDRA) (2012-2016), financement GIZ. Le projet, qui visait améliorer la performance économique et technique des acteurs des filières agricoles sélectionnées (café, noix de cajou, ananas), a soutenu le MAPTO avec le développement de l'approche des Écoles d'Entrepreneuriat Agricole (FBS), avec ave la formation des formateurs et la création d'écoles FBS des membres de MAPTO;

• Projet d'Appui au Secteur Agricole (PASA) (2011 – 2016), financement Banque Mondiale, visant la réhabilitation et le renforcement des capacités de production de bénéficiaires ciblés sur certaines chaînes de valeurs, et la mise en place d'un environnement institutionnel favorable pour le développement du secteur agricole sur le territoire des bénéficiaires. A travers ce projet, MAPTO a exécuté la première opération pilote de warrantage dans la région centrale en 2014, suite à un appel à projet. Les activités ont porté essentiellement sur la mobilisation des magasins de stockage, de vente groupée, de renforcement de capacités des producteurs et d'acquisition de matériels (pousse-pousse, palettes, balances, bâches, pulvérisateurs, sacs de stockage).


Main sources of information, publications and knowledge products
Download PDF